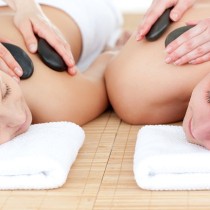 Additional Info:
1H
800 Bahts
<a href="https://artmassagephuket.com/contact-us/">Make an Appointment</a>
A HOT STONE MASSAGE in Phuket is a relaxing massage with smooth, heated stones placed on your body while massaging other parts your body.
The hot stones will warm up your tight muscles so that our Art Massage Therapist can work and massage more deeply and quickly on your body to eleminate your stress and increase relaxation.
About Hot Stone Massage:
Deeply relaxing.
Warms up tights muscles and alleviates pain.
Treats aching muscles and improves circulation.
Releases Stress and anxieties.
Combines deep tissue massage and hot stone relaxation.
Helps rid the body of toxins.
Hot Stones are placed on specific parts of the body (back, hands, etc…), some other stones are held by the therapist to work on your muscles.
Hot Stone Massage is a great Therapeutic massage therapy and has different names such as Lava Stone massage, River Rock massage, Warm Stone massage, etc…
Hot Stone Massage performed by a certified therapist in Thailand is increasingly popular among our customers.
Skills and Sensitivity at Art Massage to give you a real Hot Stone Massage in Patong Beach.